Vaccination Squad Schedule
The Stoney Health Vax Squad is offering daily walk-in vaccinations at the Stoney Health Centre.
Weekdays, except stat holidays
10 am – 3:30 pm
Book an appointment or drop-in
Flu season is upon us again. By keeping the number of influenza cases and outbreaks low, we can help protect ourselves, as well as the more vulnerable populations such as Elders and young children.
We encourage everyone to take action and get the flu shot this year.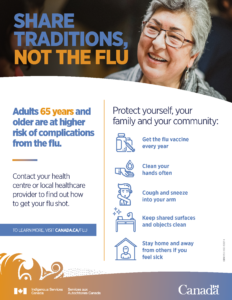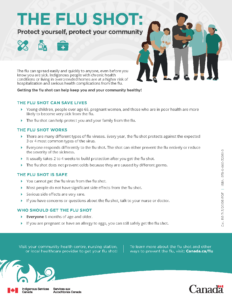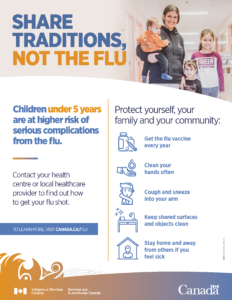 COVID Vaccinations
Children 6 mos and older are eligible to get a COVID vaccine. Vaccines are available at the Stoney Health Centre.
Bivalent COVID Vaccines Now Available
The Moderna Bivalent BA.1 vaccine is available as an additional booster dose option for anyone 18 years of age and older. We encourage everyone to get their influenza immunization and — if they are eligible – a COVID-19 bivalent booster dose at the same time. 
Drop by the Health Centre, weekdays from 10 am – 3:30 pm. 
It is recommended to wait at least five months after last dose, and at least five months after a COVID-19 infection before receiving the Bivalent BA.1 vaccine booster dose. This vaccine triggers a stronger immune response and provides additional protection against both Omicron and the original SARS-CoV-2 virus strain.
Getting vaccinated helps protect yourself, your loved ones, Elders and others in the community.