Stoney Health Services (SHS) is a non-profit organization whose mission is to safeguard and improve the health of Stoney Nakoda First Nation. Stoney Health Centre serves the people of Stoney Nation, including but not limited to status and Non-Status Indians, Métis and Inuit, as well as all individuals and families living and working in the community, including spouses, partners and children, and employees from all walks of life, who are eligible for our services. We are happy to report that more than half of SHS staff are community members, and as an organization we continue to grow each year.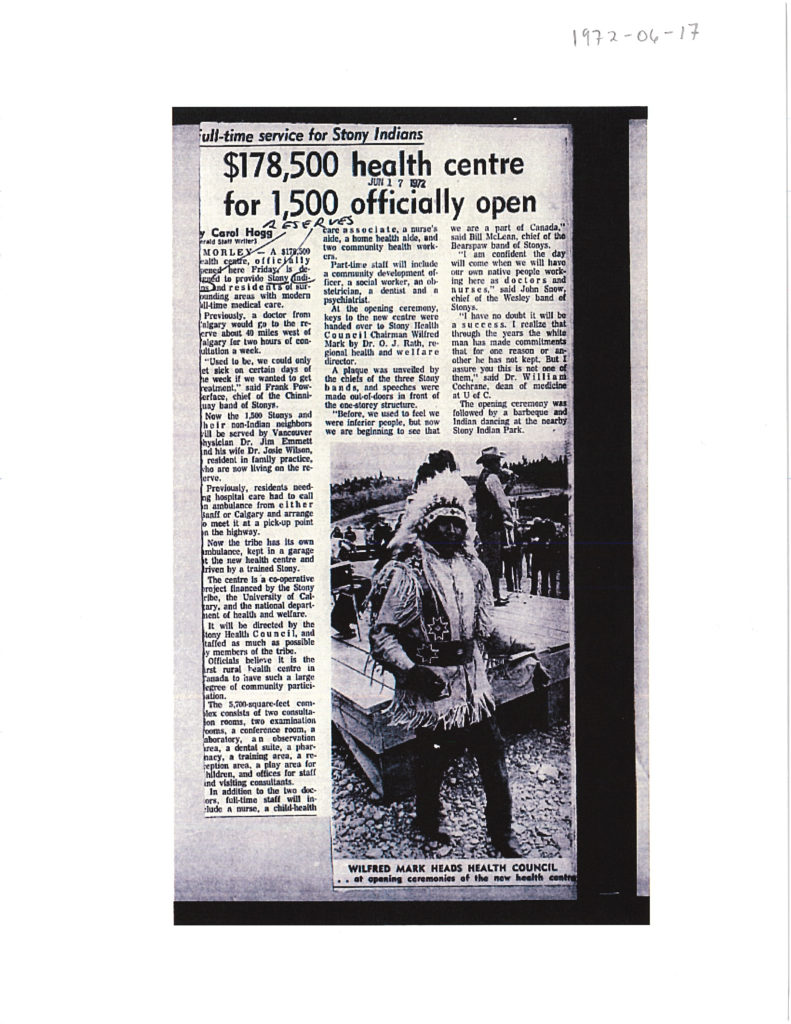 Newspaper clipping from the official opening of the Morley Health Centre in June 1972.
Stoney Health Center and once called Morley Health Centre (link to newspaper clipping from June 1972, posted above), now Stoney Health Services, was established in 1988 to provide health and wellness services to the Stoney Nakoda Nation comprised of the Bearspaw, Chiniki and Wesley First Nations. The population, estimated to be about 6000, lives on reserves in Southwestern Alberta on lands that make up the Stoney homeland, found in three separate locations:  the Eden Valley reserve which lies to the south of Morley, the Big Horn reserve to the north of Morley and the Morley reserve to the west of Calgary.
Today, Stoney Health Services  provides a number of programs and services , some examples of which are as listed as follows: Aboriginal Head Start services, Allied Health Services (i.e.  Nutrition, Physiotherapy, Occupational Therapy, Optometry, Psychology,  Speech and Language Therapy etc.),  Communicable disease control, Community and Public Health Services , Crisis Support and Community Outreach Services, Dental and Oral Health Services, Diabetes Wellness Services, Fitness and Exercise classes, Harm Reduction and Sexual/Reproductive Health Services, Health Promotion and Education, Home and Community Care Services, Laboratory and X-ray Services,  Maternal and child health Services, Medical and Community Transportation,  Mental Health and Addictions Support Services, Pharmacy Services,  Primary Care (including Medical, Nurse Practitioner and Nursing services), School health and youth programming services.