Crisis Team Builds on Personal Experiences and Understanding to Support Community
The Mînî Thnî Crisis Team combines current and traditional 24-hour comprehensive crisis and rapid outreach services for the Morley community. 
Working alongside other Stoney Health departments and local first responders, the RCMP, the Stoney School Authority, Stoney Nakoda Child and Family services to provide mobile interventions, immediate safety and short-term support for individuals/families faced with challenging circumstances, such as family violence, grief and substance use. The MTCT support team has the knowledge and skills required to effectively assist individuals, families and community members impacted and affected. 
Trevor Tailfeathers, Crisis Support Lead
Trevor was born and raised on the Blood Tribe First Nations Reserve in Southern Alberta. He was an active member with the RCMP for fifteen years and later released on honourable medical discharge from duty. He has worked and developed strong working relationships with elders, teachers, and administrators at reserves in Hobbema (Cree), Gleichen (Blackfoot), Morley (Stoney Nation).

Trevor was a policy analyst at the Secwe̓pemc Children and Family Services (SCFS) for the Tk'emlúps te Secwe̓pemc First Nations Reserve in Kamloops, BC. As a policy analyst, he applied for grants through Indigenous services Canada that focused on Indigenous health and health disparity, and has been involved in financial planning, forecasting, and reporting. He recently secured a $75,000 COVID-19 pandemic grant to address food security, internet, and mental health services to urban First Nations members and he has also advocated for system changes to enhance the way we service children and their families.

He is the crisis coordinator for Stoney Health Services where he provides rapid, effective responses to crisis situations in the community.
Alanna Kaquitts, Community Outreach Liaison
Family is everything to Alanna Kaquitts as the oldest of six siblings and herself blessed with two beautiful children. She is all about SELF CARE and cites TV binge watching, blasting music in her car, travelling, exploring and adventure as her main ways to unwind.

She's held a number of administrative roles, including most recently with the Eagles Nest Stoney Family Shelter and Hobbema Dental and completed certificates as a health care aid and medical office assistant.

She's so excited to continue in her role as community outreach liaison where she'll combine her administrative and organizations skills with her love of meeting, connecting and working with people. She notes with pride how much she's grown professionally and personally in her role and is looking forward to what's next.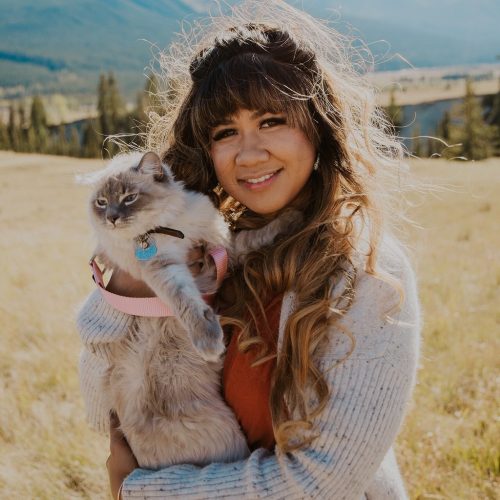 Charlotte Sison, Crisis Intervention Social Worker
With her parents, sister and brother, Charlotte Sison immigrated to Calgary from the Philippines when she was a kid. Now she resides in a small town outside of Calgary with her partner, cat (shown on left) and dog and commutes daily to Morley.

Prior to joining Stoney Health, Charlotte worked for the City of Calgary facilitating afterschool programs for youth. She also worked as a child and youth counselor with Hull Services. A majority of her work experience comes from child protection work, as she spent the latter part of her career as a caseworker with Children's Services.

Charlotte worked in Fort McMurray for a few years and started looking for new opportunities to elevate her career and bring her closer to her home and family in Calgary. She found that she had enjoyed both working in a rural area and her experiences working with Indigenous Peoples but wanted to build her skills working in the health/medical field. Timing was everything when she noticed the posting for a social worker with Stoney Health. She jumped at the chance as she felt it was a perfect fit for her next work adventure.

In her personal time, Charlotte works out and listens to vinyl records as her primary forms of self care. Family is everything to her and she naturally spends as much of her free time with them as she can. She's also a road tripper and enjoys hitting the local food hotspots when she's in the city.

Charlotte looks forward to getting to know members in the community, learning some of the language and being able to work collaboratively with the community and her team to advocate for and tackle the social issues that the Nakoda people face. She's already feels she's learned a lot, especially when it came to participating in pipe ceremonies and sit downs with Elders who generously share their stories. We welcome Charlotte's energy, talents and collaborative approach to the team!
Shylance Twoyoungmen, Community Support/MTCS Mobile Worker
Pride in family is a shared theme across the Crisis team. Sharing her home with her partner and stepson, Shylance Twoyoungmen (prefers Shy) comes from a large family who tragically lost a brother recently due to illness. She is also a proud member of the two-spirit family in the community and is fluent in Stoney.

Maintaining an active lifestyle appeals to Shy. Getting outdoors, hunting, fishing and hiking - all top her list of hobbies. She also attributes sports and physical fitness to her determination, discipline and patience.

She's most excited about 'the mental and emotional challenges' of her role. Adding, "Being able to help my community and give support to the Nation. It's not enough to simply say 'I'm a great fit for the role,' I also see an opportunity to learn and grow these skills."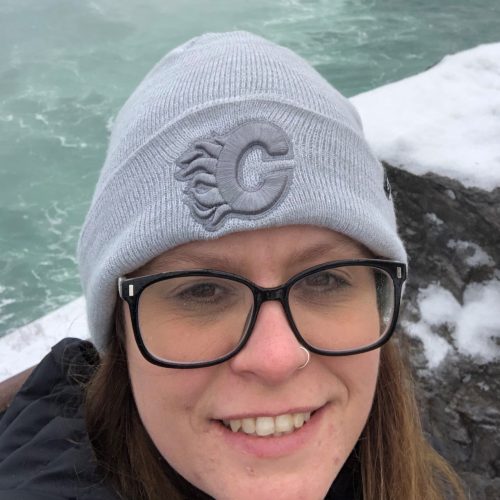 Tara Glass, Victims Services Liaison

Tara Glass is the oldest of four kids and was the first in her family to move to Calgary. She's a mom to an energetic seven-year-old who fills up most of her free time outside of work. You can usually find them at park or hockey rink, exploring the mountains, swinging clubs at the driving range, or finding a camping spot near a beach where they can swim or paddleboard.

Tara is a recent graduate of Bow Valley College's Justice Studies program and hopes to continue her education over the next few years to achieve a Bachelor of Criminal Justice. She's always had a passion to work in a career where she could help others and give back to communities. However, it wasn't until her 30s that she had the opportunity to go back to school and begin her career. She worked for a number of years for a sporting goods retailer before working at the Stoney Nakoda Resort & Casino for the past year.

It was the people she met and worked with at the Casino who inspired her to apply for her current role with Stoney Health. She is a mental health, women's fertility advocate and a trauma survivor. She also loves a good podcast or audio book in her down time. She'd also be the first to volunteer to cook rather than do the dishes and clean up.

Tara was recently asked if she could write a book about her career to date, what would the title be? In her words, "The title that immediately came to my mind is 'Why I Spent Years in the Wrong Career and How it Helped Me Find Myself.'