Taking stock of the Stoney Health Fair 2022.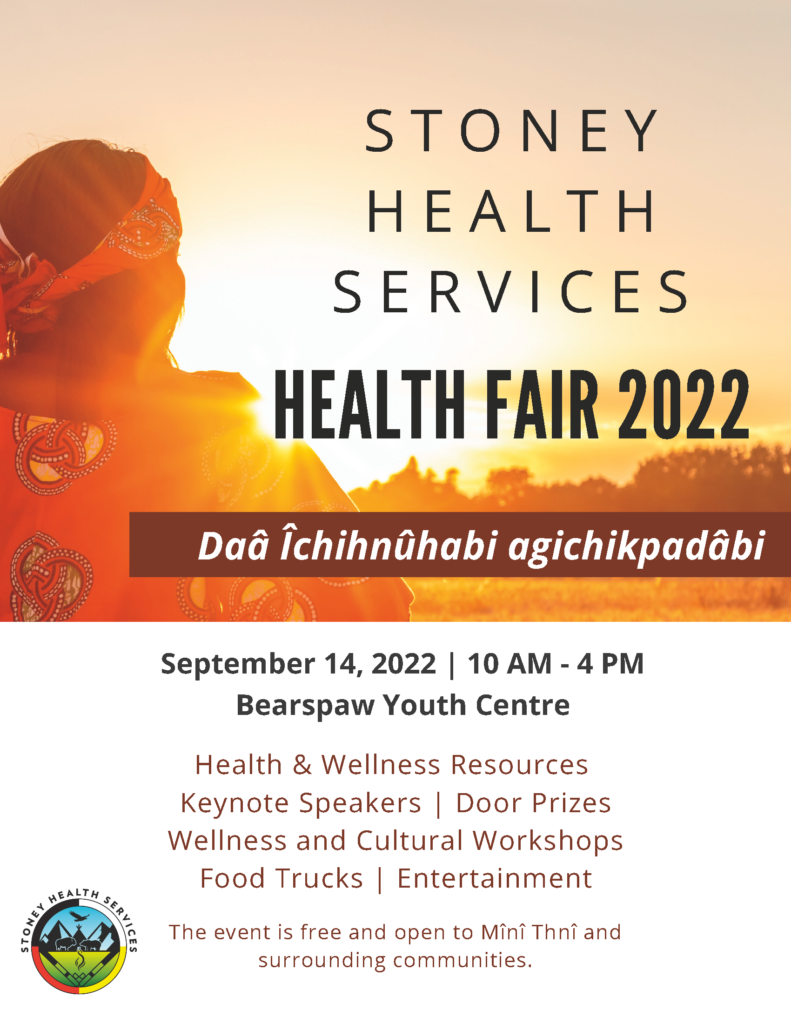 Stoney Health Fair 2022 | A Recap
The 3rd annual Stoney Health Fair returned to Mînî Thnî on September 14, 2022. Thank you to the community for your generous support!
Stoney Health was honoured to welcome some 500 Elders, school children and community to interact with 55+ health and wellness and partners in health exhibiting their programs and services. 
This year's theme celebrated and was inspired by the Stoney phrase, Da𝗮̂ 𝗜̂𝗰𝗵𝗶𝗵𝗻𝘂̂𝗵𝗮𝗯𝗶 𝗮𝗴𝗶𝗰𝗵𝗶𝗸𝗽𝗮𝗱𝗮̂𝗯𝗶, essentially calling upon each other to have good overall mental, physical, spiritual and cultural health – or be resilient.
Following a traditional pipe ceremony, the Grand Entrance commanded participants' attention as Elders, community members and special guest walked with Nation and community flags and were joined by a local drum group and several dancers. 
Stoney Health was honoured to feature keynote speaker Dr. Terry Poucette, a Stoney Nakoda Nation member, academic and Indigenous Relations lead with the City of Calgary. Dr. Poucette spoke personally of her own journey as a Stoney Nation member and the challenges she encountered along the way as she charted her professional and personal path, bringing her full circle back to the community she grew up in and flourished.
For the first time, several wellness workshops including art therapy, beading, horticulture, fitness classes invited guests to learn and enjoy forms of self-care. Health and wellness experts also provided advice and resources on Opioid Antagoist Therapy, Mindfulness and Coping with Anxiety and Mental Wellness and Grounding – offering something for everyone. Refer to the full Stoney Health Fair Program for the full lineup.
It was truly a team effort from which to celebrate and build upon. Stoney Health looks forward to the next Health Fair.
Scroll down for a visual recap of the day-long festivities, entertainment and excitement.
Take a look through the Stoney Health Fair 2022 photo gallery capturing some of the energy and excitement, showcasing the community's resiliency.