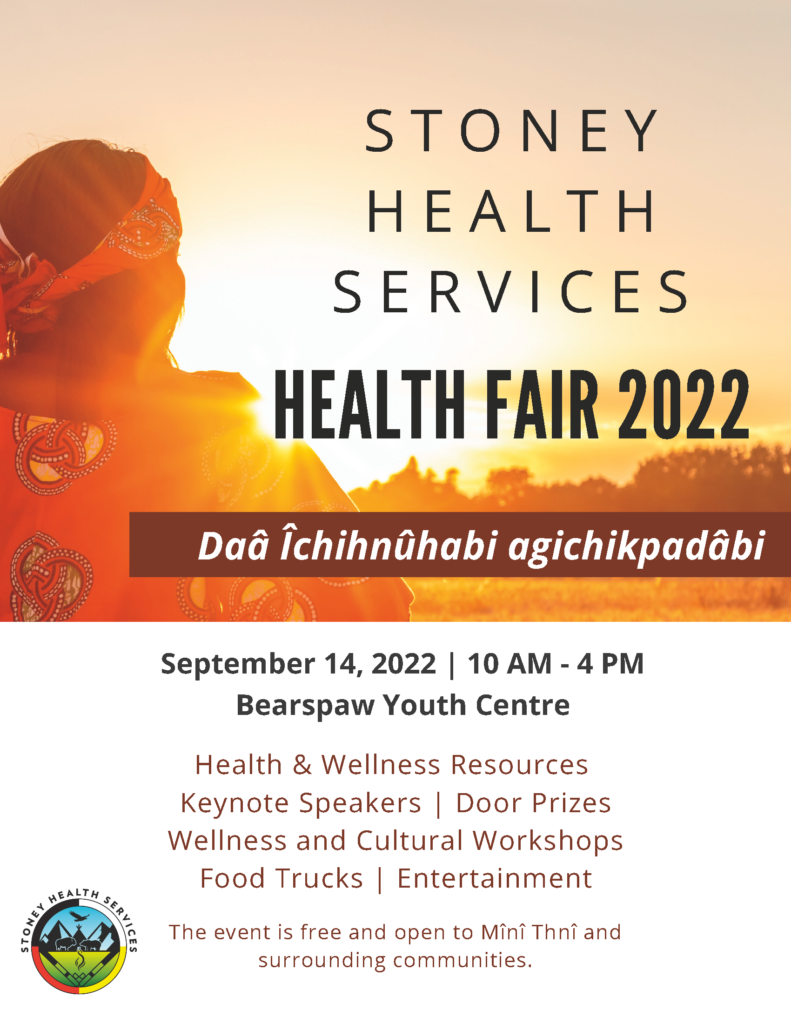 Stoney Health Service's Health Fair | Mark your Calendars! 
Stoney Health Services is excited to bring back our community health fair Wednesday, September 14 
10 am – 4 pm 
Bearspaw Youth Centre. 
After the pandemic, it's time to remind the community of all existing health and wellness programs, with an emphasis on mental health and addictions education, resources and support. This year's theme is resiliency.
Stoney Health Fair Program, subject to change
8 am: Venue Open for Exhibit Set-up
9 am: Pipe Ceremony
10 am: Grand Entrance
10:30 am: Opening Ceremony
10 am: Exhibit Hall Open
10 am – 2 pm: Button Making with Marigold Library (child and youth activity)
11 am: Keynote address, Dr. Terry Poucette
12: 10 pm: Wellness Workshops (sign-up onsite)
1:00 pm: Opioid Antagonist Therapy (OAT) and Family Support
1:20 pm: Mental Wellness and Grounding
1:40 pm: Entertainment
2:00 pm: Wellness Workshops (sign-up onsite)
2:30 pm: Mindfulness/Coping with Anxiety (presenter: Trish Tutton)
3:30 pm: Closing Ceremonies
4:00 pm: Exhibit Hall Closes
Stoney Health Services will close all locations and there will be no appointments available on September 14.