Preparing your Shopping List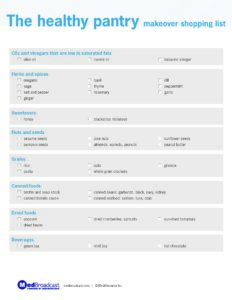 Source: Checklist adapted from MedBroadcast, https://www.medbroadcast.com/pdf/shoppinglist.pdf. Click to download sample.
Below is a suggested grocery shopping checklist for things you may want to purchase to complete your PANTRY MAKEOVER! You can purchase the items on your list over time, in addition to your regular grocery shops. You might not want everything on this list, it will depend on what your family likes to cook!
Sweeteners & Baking Ingredients