In tribute and support of residential school survivors
The alarming news confirming hundreds of unmarked graves at the former residential school on Tk'emlúps te Secwépemc First Nation near Kamloops sparked outrage this spring. It also renewed trauma for First Nations' survivors and families of those loved ones who never returned. 
Now months later, thousands of graves have been uncovered across Canada. More are expected as First Nations' communities continue the discovery process and determine how best to honour the memory of those who died, as well as support survivors.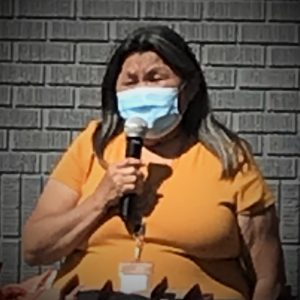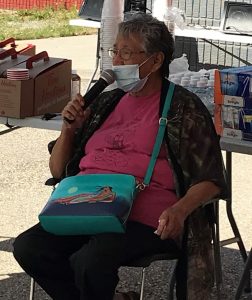 Stoney Nakoda Survivors
In Morley, there were one residential school, one orphanage on Jamieson Road east of Morley and three day school buildings, one of which is now the site of the current high school.
Stoney Health cultural liaison and residential school survivor Jeanette Wildman met with Nation Elders to determine an appropriate way to help the community grieve and continue the healing journey. 
At the Elders' request, a tribute ceremony was scheduled in late August in advance of kids returning to school. 
Nation members were invited to share in the sacredness of a pipe ceremony and smudge.
Following the healing prayer service, Jeanette hosted a small ceremony for the larger community reflecting on her own experiences and sharing some of the atrocities and abuse that have been shared with her from family and community elders.

Survivors share experiences. Offer ways to encourage healing.
Survivors were welcome to come up and say a few words. Elder Tina Poucette and Chiniki Councilor Verna Powderface reflected on their experiences and offered insight into the community's pain and grief.
Elder Poucette shared her perspectives on how survivors and the community might move forward. "We need a lot of healing in our communities. The social problems. The addictions, family violence…all are because of residential schools. We need to heal somehow so can learn to move forward without bitterness so that we an learn to forgive what happened to us." 
She went on to confide, "Personally speaking, I had to learn to forgive. Forgiving someone frees you from that bondage to that person."
After providing a brief background into Nation members distrust of non-community members, Councilor Verna Powderface spoke directly to those non-Nation members attending and advised on how to work with and in the community. She noted that "we were taught that everything is connected. That is the teaching of our ways. We lost some of our connection to the universe after contact."
"You need to understand that intergenerational trauma extends beyond survivors to include their children and grandchildren," she offered. "Understand that First Nation's people are not how we choose to be. This is how we were made to be [through contact and assimilation]". 
In closing she offered, "Try to understand and do the best you can."
With guidance from the community, Jeanette plans to present more residential school workshops and offer survivors the opportunity to tell their stories.
A community walk is planned for National Truth and Reconciliation Day on September 30. All are welcome!